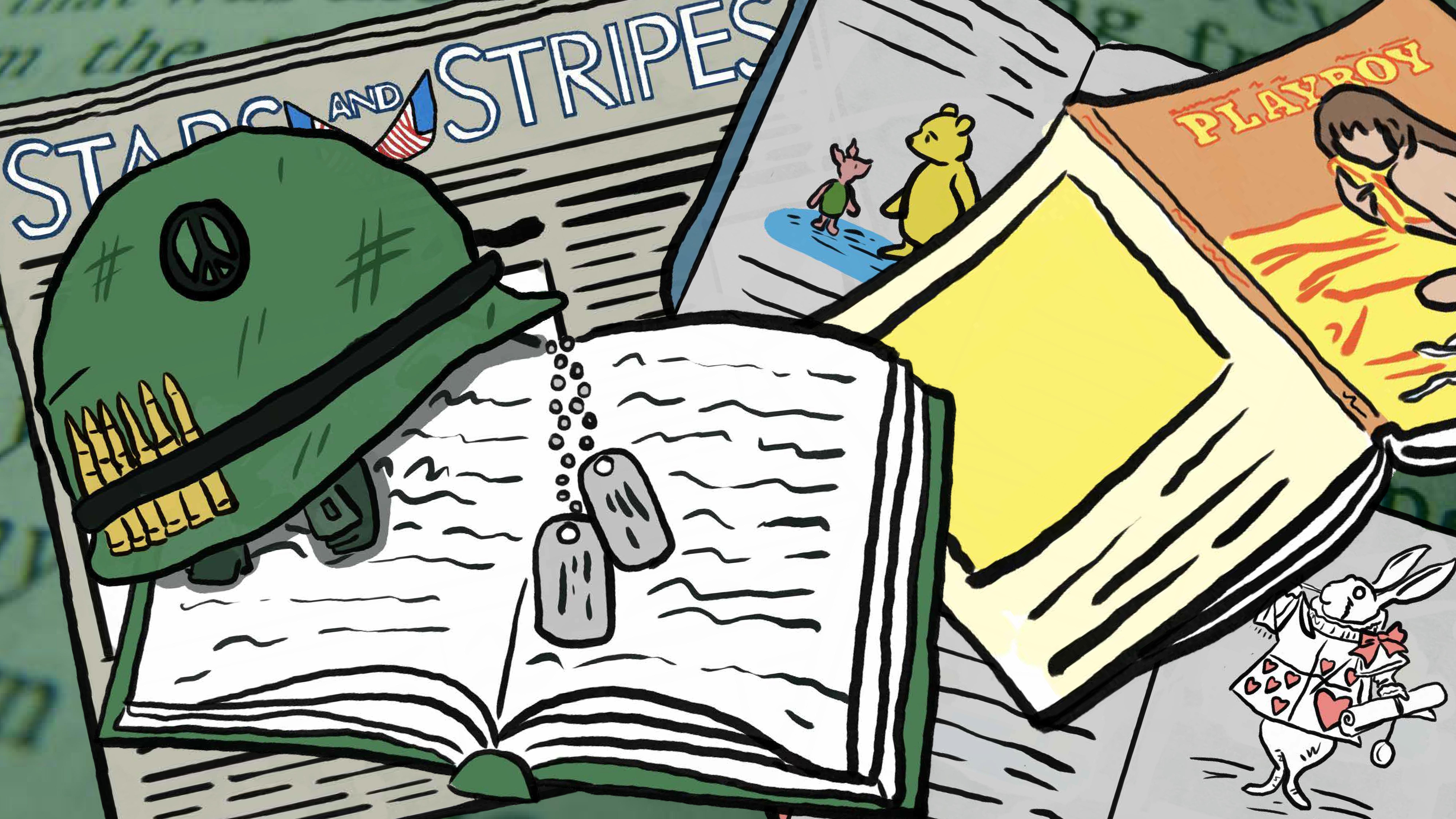 The Things They Read: Veterans Talk Books and Magazines During the Vietnam War
By Lindsey Foat
Illustrations by Frank Myles
After the casualties were helicoptered out and night fell in Vietnam, stories were important for processing and even mentally escaping the day's events in a war zone.
"Stories help us heal, they console us," said author and Vietnam veteran Tim O'Brien. "You're getting ready for the dark, facing another terrifying night, and you talk about what happened that day."
While marching through the Quang Ngai province in Vietnam, O'Brien's heavy pack meant no room for reading material, but he says everyone still carried stories with them.
O'Brien's award-winning novel The Things They Carried is the focus of this year's
National Endowment for the Arts Big Read
, which includes all six metro library systems and a partnership with KCPT's community engagement around The Vietnam War, an 10-part documentary from Ken Burns and Lynn Novick.
While interviewing Vietnam veterans over the past year, we here at Kansas City PBS asked them what — if anything — they read while serving in Vietnam. Their answers, which are featured below, ranged from classics like "Alice in Wonderland" to Playboy. Lots of Playboy.
Big Read KC: Tim O'Brien Interview
As part of the 2017 Big Read of "The Things They Carried" by Tim O'Brien, Kaite Stover, librarian and director of reader services at Kansas City Public Library, talked with O'Brien during his recent visit to Kansas City about stories, the war, and his role in "The Vietnam War" documentary series.

Kansas City PBS - KCPT, Kansas City
"I walked into the terminal and they had something called Pacific Stars and Stripes, which was the newspaper for the military. On the back page was the sports section. I just picked it up just because I wanted something to do to get my mind off what I just had heard. Here was this headline that said, "Missouri, 69, Kansas, 21". I thought, maybe this year won't be so bad after all. I'm a big Mizzou fan. Turned out that wasn't the case, but I remember that very clearly of being the first time I laughed in Vietnam. You had to laugh or go crazy." - Art Fillmore, Army

"I remember reading Stars and Stripes. It's about the only thing we had reading material that were there. That was about it. Of course, propaganda leaflets were dropped constantly down in the fourth core area. About the only thing that I remember was the Stars and Stripes little paper that came out that if we could get it, that was something we read. I haven't seen one of them in a long time. That'd be kind of fun to read again." - David Baker, Army

"Well, you always had the military newspaper, and in Stars and Stripes, you'd know it was going to be slanted but you read it anyway, because you knew it was the only time you ever knew what was going on. That was probably a big thing. Magazines were a big thing back then. You read a lot of Reader's Digest because there were so many good stories in it.... Reading material, I think I would have to say it was magazines more than anything. Playboy, some guys got into the Hustler stuff and things like that. Playboy was always very popular because it was really good reading material. That's the only reason I'd ever get it." - Jim Maher, Navy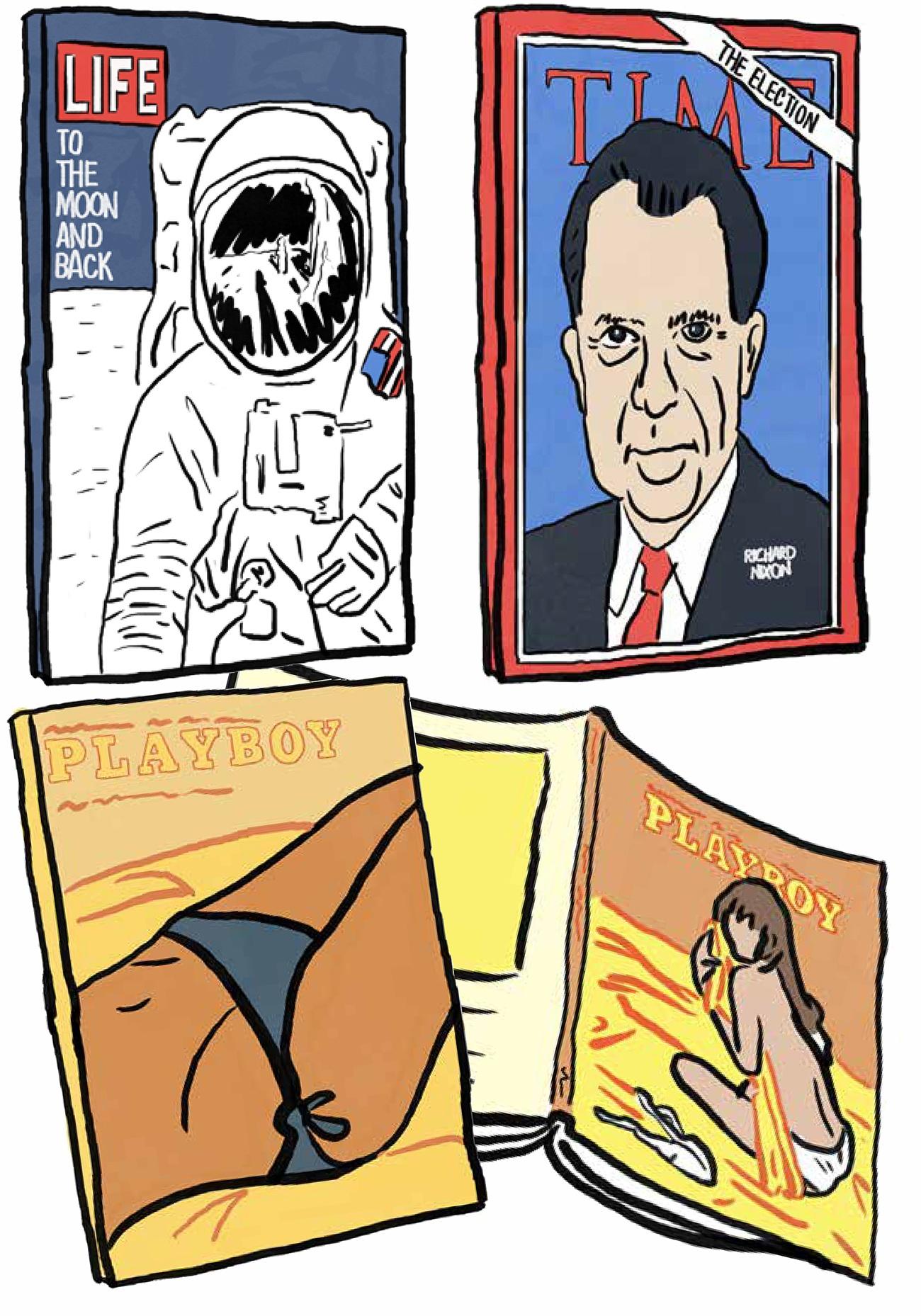 "I got into (the author) Zane Gray. The Red Cross, they had a lot of books that they'd hand out a lot of times in our base camp. We didn't have a formal library. We had enough books around that where somebody read one they'd just pass it on to somebody else. You'd get their book and read it. I had time to read. I like to read Westerns. I did a lot of reading. I got into James Fenimore Cooper and his series on the Mohicans. It was a good throwback to the United States, the way it was way back in the late 1700s, 1800s. Other than that like I said I read mainly Westerns, Louis L'Amour. No school books." - John Krisman, Army

"Well, at least in Vietnam, I didn't have a lot of access to reading materials except for there's a newspaper called Stars and Stripes. I didn't have any access to any books unless I brought a book over, which I didn't do. During our off-times what we'd do is they had a little crude shack type setups and you'd go and get some beer or whatever. Then somebody would have a little record player and you'd play records and listen to music and drink beer. You just did that to occupy the time. In Vietnam I didn't do a lot of reading. I love to read but I didn't read there." - William Leppert, Navy
"Well, this might be way off but someone who was influencing me at the time and who I was reading was someone that maybe most people don't know is Thomas Merton. Thomas Merton was a Trappist monk and a peace activist. He represented some of the first poetry, anti-war poetry. Also, I have to say that I didn't have access to a lot of books where I was. I would get the National Catholic Reporter and I would be following events in the United States through reading that. Honestly, I would not say that the two years or the years that I was in Vietnam were highly literary for me. It was more experiential than that. I'd say Thomas Merton would have been one of the people that influenced me." - Tom Fox, International Voluntary Service

"Stars and Stripes, which is the military publication. I used to get from time to time The Sporting News, which no longer exists, that my dad would send to me. I was not a deep thinker at that time. I didn't read The Economist or Newsweek or Time editorials. It was what was happening in football and baseball and basketball, etc." - Tony Pino, Army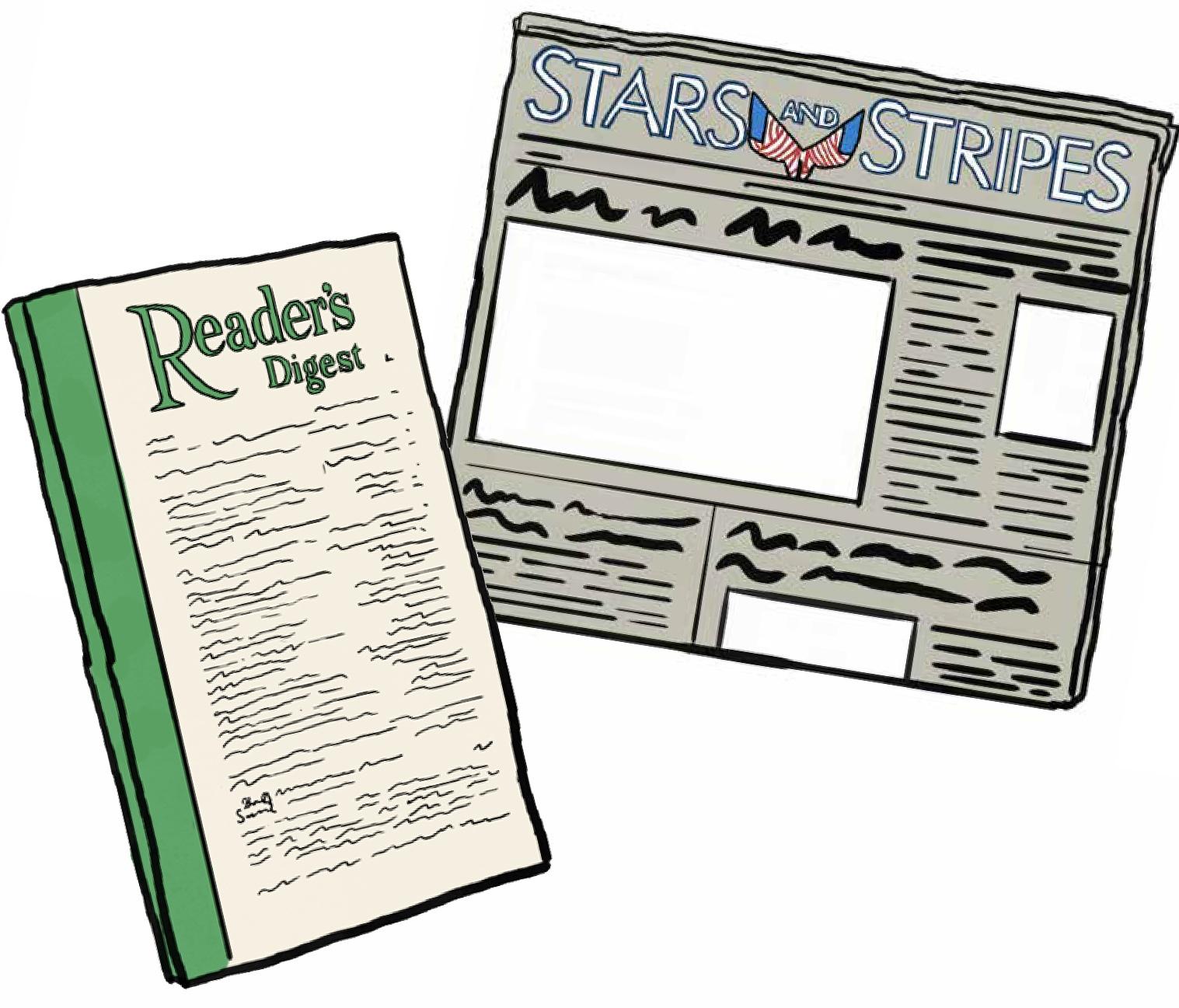 "I don't remember reading books. I remember journaling. I couldn't name one book that I read. Maybe I spent all my time singing and playing. But some of the guys apparently read things they hadn't gotten around to reading to that point, so I don't know if I was just so tired at the end of the day, I didn't have time to read." - Lou Eisenbrandt, Army Nurse

"Vietnam actually got me to enjoy reading, because I knew that I wanted to go back and finish my BA. I had just gotten into the English department. I wasn't a reader growing up. I'm a slow reader now. When I was in Bangkok, I found hardback copies of "Winnie the Pooh". I had never read that. I liberated a copy of "Alice in Wonderland" and "Through the Looking Glass" from a Military Police company in Vietnam that I read. Reading and writing in Vietnam kept me from falling into the serious drug use. I was just reading everything I could get my hands on. The USO was super with having books available. I mean, it was literally all new to me. It was a way of getting away from what was going on. "Alice in Wonderland," how better can you understand what Alice is going through than having a cook across from where you sleep being so stoned on heroin that 'Black Magic Woman' played over and over and over again for a half an hour until he came out of the nod." - James Rifenbark, Army

"Playboy. Matter of fact I've got a 1969 Playboy calendar downstairs that was mine, in the showcase. I read a lot of the Travis McGee murder mysteries by John D. MacDonald. Anytime I could get my hands on those, I read those. I always had a paperback book. I was in a transportation unit and ran convoys. So we'd have downtime when we got to where we were going while they were unloading the trucks and stuff. I always had a book with me of some kind, but most of them were murder mysteries over there that and Playboy. I didn't take the Playboy on the road — it'd get messed up." - Randy Barnett, Army

"I didn't see too many Marines reading. One thing that was really big was Playboy. I remember comic books were big. More serious books, there were probably people, but I wasn't around them. I did not see them around there. I guess if you were in Saigon someplace, you could sit down and read a book. You had to read something fast. We got Stars and Stripes. That was really it. You got a letter from home, that would give you the latest news from home." - Thomas Ponds, U.S. Marine Corps